Every Friday one of the members of a writing group I belong to on Facebook posts a 100-word flash fiction picture on his blog. Today's post was this picture.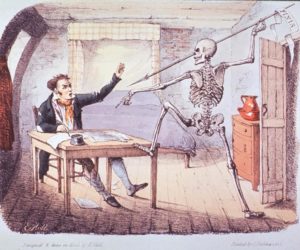 Normally I don't have time or brain to do these but today was an exception. Please note it is MUCH more difficult to edit down to 100 words than it is to come up with an idea.
---
Nameless
I am nameless. I have my bones, they are solid and strong. Creator whispers ideas I cannot hear.
I wait.
I gain flesh, armor on my shoulders, a spear in my hand. A warrior. I reach out to grasp my name, not caring to wait for Creator to write it. My flesh dissolves to bones. Creator scratches out words.
No!
I turn to Creator, fading memories as a warrior spark anger.
I will fight for my bones to remain, for my flesh to return.
My spear is still in my hand. It has not been crossed out. I take aim.
---
Thanks Jimmie Bise Jr for the inspiration and encouragement.